Upgrade from ISA 2006 to TMG2010
Customer wanted to upgrade his ISA 2006 server to "new" TMG 2010. I thought it would be nice and easy process. It could be if there were no problems which I didn't expect to be a problem in "new" software. Old server was still functional and I wanted to prepare new server and migrate all settings and certificates.
Requirements
To install all requirements you can install required packages by yourself or you can use Run Preparation Tool from installation screen of TMG. Why didn't they include it into installation package it self?
Messed up console
When I was done with installation I ran TMG console and I received following error: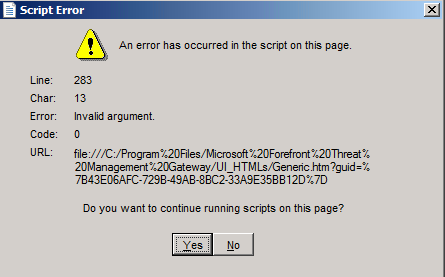 This was really dump error. TMG Management Console does not work on Internet Explorer 9.0+. You need to comment out all lines containing word "paddingBottom" (there are three such a lines) in file C:\\Program Files\\Microsoft Forefront Threat Management Gateway\\UI_HTMLs\\TabsHandler\\TabsHandler.htc.
Rules import unsuccessful
When I ran import of ISA xml backp on TMG server I received following error: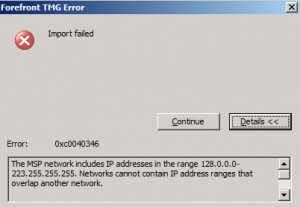 This problem is nice self-describing. We need to delete all IP ranges from all network interfaces before importing any settings:

Last step was to migrate IP addresses from old server using netsh.
Export
netsh -c interface dump > C:\\IP_SETTINGS.TXT
Import
netsh -f C:\\IP_SETTIGNS.TXT
I have tried to follow this article, but there are always pitfalls waiting for you 🙂