Remove "Screen Resolution" on right-click
These days I'm working on one RDS (Terminal Services before) farm and I'm playing with setting users' environment as secure as possible, but also as usefull as possible. When I disabled access to Control Panel for all users with settings in GPO I found one issue. When I right-clicked on Desktop under normal user I could see following options: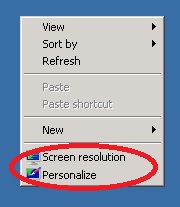 When I clicked on those options I got error message saying that I'm not allowed to configure options. Then I found out that those options have to be removed by deleting (editing) registry keys.
Registry key is HKEY_CLASSES_ROOT\\DesktopBackground\\Shell and there are following registry keys: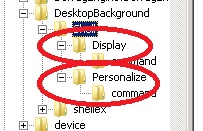 To be able to delete registry keys you have to:
change owner of HKEY_CLASSES_ROOT\\DesktopBackground\\Shell to Administrators
let change owner also for subcontainers and objects
set full-control on key HKEY_CLASSES_ROOT\\DesktopBackground\\Shell for Administrators
let replace all child object permissions with inheritable permissions from this object
and now you are ready to delete/edit those registry keys.
I'm surprised, that changes in GPO didn't really disable all the settings as I would expect, but there is always workaround 🙂